Customers say the darnedest things in response to my advice. Fortunately, they're usually pretty complimentary!
Most of the feedback that people bother to leave is just a few words...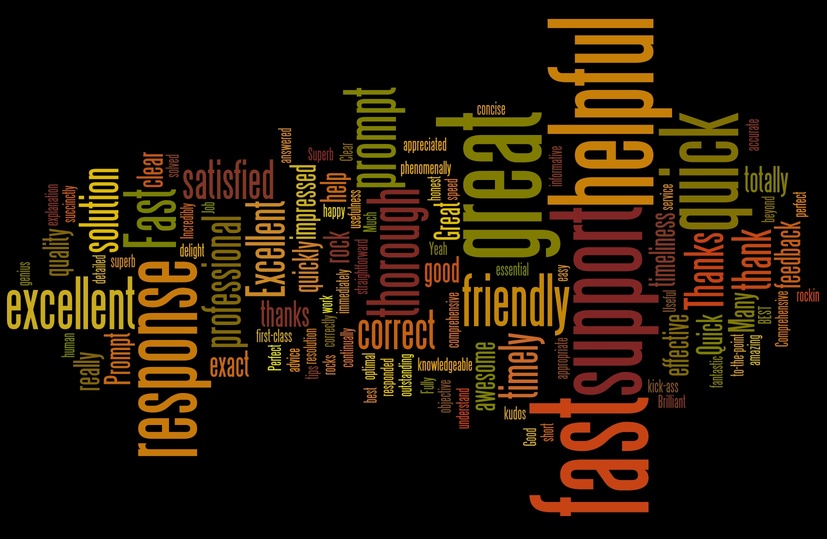 Of the people who bothered to leave complete sentences behind, these are some of my favorites:
...quick, friendly, and informative. I can't think of a better response.
Chris answered my question quickly and succinctly. I moved towards a solution immediately after hearing his response. Thanks!
This was a great walk-thru! You surprise and delight. Thanks again!
I appreciate the sincerity and helpfulness presented even though the problem is challenging.
I'm always VERY impressed by the timeliness and usefulness of support responses by Chris.
BEST CUSTOMER SERVICE. EVER. END OF FUCKING STORY. B-E-S-T.
The response was exceptional in timeliness, attitude and content, as per usual!
Chris gave great *full* answers and an actionable path forward. He reflected our concerns, addressed them technically, explicitly noted constraints and work arounds. Good stuff.
Love the quick response and comprehensive help. I stay with these kinds of services because they help my business succeed.
I appreciate the speed and quality of the support I received. Thanks, Chris!
outstanding, and i hate replying to these things but you guys rock.
Chris was a great resource. He provided me with exactly what I needed in a timely manner. As my first experience with New Relic tech support, count me impressed.
Chris provided great customer support. Went above and beyond, installed a new operating system to fix the problem I was having. Did this all within 24 hours of my initial question.
Response was fast. Chris was really knowledgeable and helpful. And when I had a follow-up question, he was right on top of it as well. I was impressed with the service speed and quality. Thanks for taking great care of us on this issue.
Not only did the techs fix the problem quickly, they gave me a headsup about the TTL settings that while I'm aware of did not think to change. They went above and beyond.. A+!
Very detailed help and professional. Hope I always get someone as helpful as this.
Incredibly satisfied. Chris provided a lot more help than I was expecting.